Bar Hours: 3 pm - 1:00am
We're not known as the "nicest little bar in Baltimore" for nothing! Our friendly atmosphere coupled with our fine selections of beers, wines, and cocktails make us a stand-out! We offer Happy Hour Monday through Friday from 3 pm to 6 pm, featuring $1.00 off all draft beers, specials every night, and some thoroughly enjoyable theme nights. For our friends who smoke, we have an outdoor, heated smoking area.
Our kitchen specializes in all-fresh items prepared in-house. We offer items for all palates, including delicious vegetarian choices. Kitchen hours are 3pm to 10:30 pm.
Trivia Every Monday!
Join us at the Pint every Monday at 8 pm for friendly competition at trivia.
Join Us For an Art Show!
Bring your friends!
August 6 - September 11:

Micah Moon Russell
"Other Gardens"

They're those friends you have who are always crying at the party. I imagine them in the same situations I've found myself in and can only find solace in knowing that they're better dressed than I was at the time. Those thin effeminate white boys with long hair and anxiety disorders. They're an attempt to translate my own anxieties onto paper and to remind myself that time and reality are things I don't quite understand.
"Thinking of You LKV-1"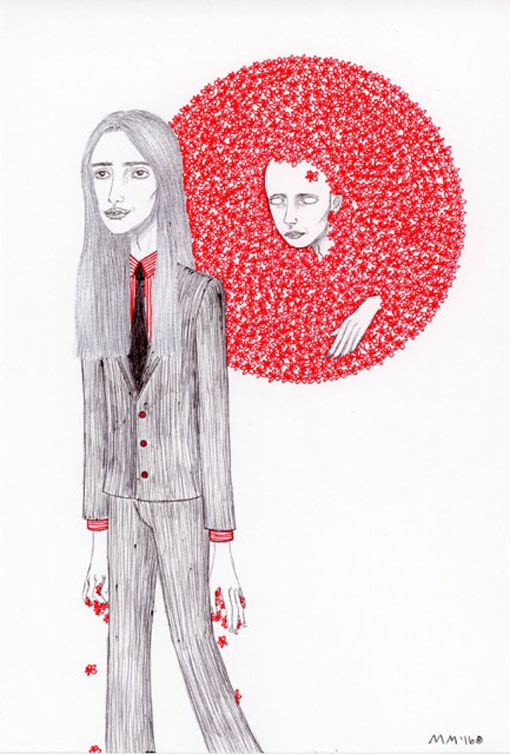 "Why Won't You Stay Dead no 2-1"
Opening August 6, 6-9 pm
Bring your friends!